ULTIMATE WEEKEND AND VACATION BIBLE SCHOOL
Every year the Pangburn United Methodist Church host the annual community event -UIltimate Weekend (Breakfast) 2006 and Vacation Bible School at Oak Grove that followed.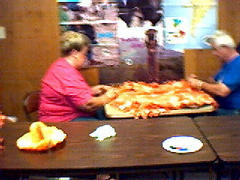 Cleve and Darliss prepare blankets to be sent to children in the mountains of a South American country. This project was part of the VBS mission outreach.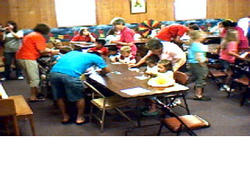 We had 38 kids for Vacation Bible School at Oak Grove on August 5th. Janet Reaper directs an outstanding group of leaders which makes this event a success every year.